Current market conditions are hinging on low housing inventory, steady buyer demand and no meaningful movement to increased density in the foreseeable future. Consequently, overall market factors still favor sellers.
Multiple offers, pre-offer buyer inspections and creative offers are still common (especially in-city). However, for optimal outcomes, sellers are advised to pay very careful attention to details. Buyers in this market are discerning and they will pass on poorly prepared or over-priced property. To reach their goals, successful buyers must demonstrate patience and persistence and should be open to additional risk.
SEATTLE: Recent Median Sale Price (Residential and Condo)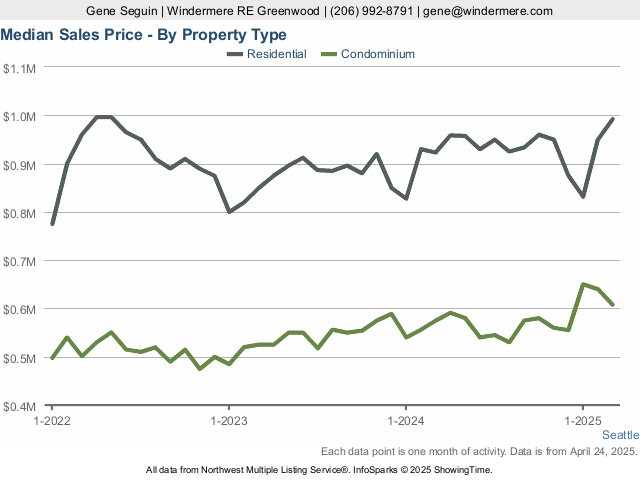 SEATTLE: Recent Number of Homes for Sale (Residential and Condo)
When the number of homes (inventory) increases, buyers benefit.
As inventory goes down, sellers benefit.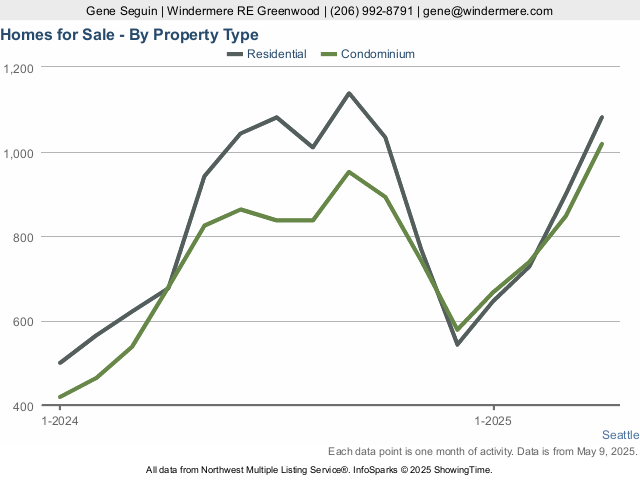 ---
IS THE CURRENT MARKET IN YOUR FAVOR?
Whether buying or selling, it's important to understand which market factors are working for you – and which aren't.
There are always several variables at play, but the most influential one in this current market is inventory.
BUYERS:
Right now, if you're in the market to buy real estate you'll find that the current low supply of inventory (homes on the market for sale) creates some challenges. New listings appear to trickle in and when something worthwhile appears and you think "Finally! This is the one!", a handful of other buyers are standing with you on the front lawn of the property, earnest money checks in hand. It can get discouraging, for sure. Nevertheless, there are compelling reasons for buyers to be persistent:
Historically low interest rates
Strong local economy in future-looking industries
Growing population with optimistic forecasts
Housing expansion geographically constrained by mountains to the east, ocean to the west
Low vacancy rates (greater Seattle) which makes for expensive rentals
If the time is right for you to buy there are ways to minimize the challenges of the current market and maximize the benefits. You just have to be thoughtful and committed. And you need to have an experienced, dedicated real estate broker on your side – someone who'll protect you from pitfalls and common mistakes and guide you toward success. Contact me for more information on today's market and how you can make the most of it!
SELLERS:
If you're thinking of selling any real estate, the current conditions are hard to beat. In fact, if you looked at market conditions just 18 or 24 months ago and it just didn't make sense to sell, now is a great time to give it another look. The same market factors listed above that are driving buyers to stay in the game are the same factors that are working for sellers. Right now, well priced, well prepared homes are selling promptly, often to multiple offers.
This doesn't mean you can 'name your price'. In fact, it's still easy to suffer missteps as a seller in this market. Make no mistake about it, buyers in this market are savvy and unsatisfactory listings are quickly passed over for better ones. That's why it's perhaps more important than every to put an experienced, dedicated real estate broker on your side. In the world of real estate, mistakes can be costly and second chances are very rare. Contact me for more information on today's market and how you can make the most of it!
DISTRESSED SELLERS:
While it's technically a 'Seller's Market', there are many homeowners who can't take advantage of current conditions because the loan(s) owing on their property plus selling expenses exceeds the market value of their home. In addition, many of these homeowners can't qualify for a refinance or it wouldn't make an appreciable difference because the principal owing remains a hindrance. This is a discouraging situation, to say the least and it can be accompanied by missed mortgage payments.
If this sounds familiar, you have options. But you have to get out in front of it and put yourself in control. I'm networked with specialists in this field who offer private consultations that provide practical solutions to homeowners who are 'underwater' in their mortgage. I help them all the time and I'd be happy to do the same for you. Contact me for more information on this topic.
---
SEATTLE REAL ESTATE: 10 year history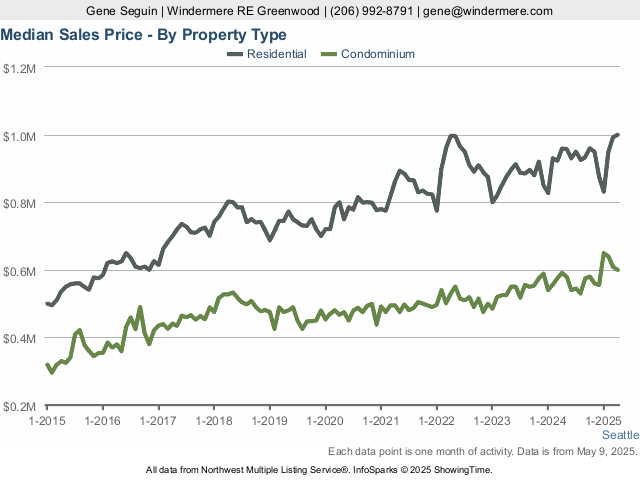 ---
King County Real Estate: 10 year history
King County includes cities such as Seattle, Shoreline, Lake Forest Park, Kenmore, Bothell (partial), Kirkland, Bellevue, Redmond, Mercer Island, Renton, Tukwila, Burien, Des Moines, Federal Way, Covington, Kent, Maple Valley, North Bend, Snoqualmie, Duvall, Carnation and more!! Wow, it's a big county.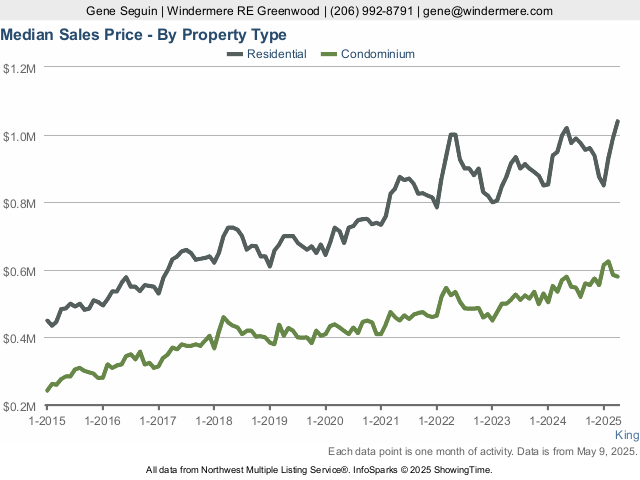 ---
Snohomish County Real Estate: 10 year history
Snohomish County includes cities such as Everett, Snohomish, Lynnwood, Edmonds, Mill Creek, Mountlake Terrace, Marysville, Mukilteo, Monroe, Lake Stevens, Arlington, and more!!
---
Pierce County Real Estate: 10 year history
Pierce County includes cities such as Tacoma, Lakewood, Puyallup, Sumner, Spanaway, Gig Harbor, Graham and more!! It also features the mighty Mt. Rainier!
Kitsap County Real Estate: 10 year history
Often accessed via ferry, Kitsap County is located across the Puget Sound, west of Seattle and neighboring cities. Kitsap County includes cities such as Bainbridge Island, Bremerton, Port Orchard, Silverdale, Poulsbo, Kingston and more.